Perhaps unsurprisingly, the next morning was marked by a touch of a queasy stomach and a throbbing head. The day was overcast and the wind was so strong and forceful I could basically lean into it at a 40 degree angle without falling over. Those two conditions combined meant driving was out for the day, so we focused on things in and around Reykjavik on foot. The number of well known places to eat and drink far outnumbered what we had time for.
We started the morning with coffee at Stofan Cafe. We both love good coffee in any form, and were consistently impressed by just how good the coffee was everywhere in Iceland.
Our first food stop of the day was an organic bistro called Icelandic Fish and Chips. The fish selection changes daily and the chips (potato wedges) are oven baked instead of fried. For those interested in more than just ketchup, tartar or vinegar as a sauce, a menu of simple yet complex dips allows you to enjoy such unique condiments as Truffle and Tarragon, Coriander and Lime, or Chili and Roasted Pepper.
We then decided to have beers at a few stops we had read about but would not have time to eat in during this trip. Café Paris was clearly one of the more popular Sunday brunch spots; the art and décor in the lobby restaurant of Hotel Reykjavik Centrum were particularly impressive; the bartender in Tabasco's restaurant (showing some Louisiana love – though unrelated) gave us some great recommendations; and and we ducked into a sports bar hoping to spot the Saints versus Buccaneers game on one of the many tvs (to no avail, the only football there was soccer….Europe after all!).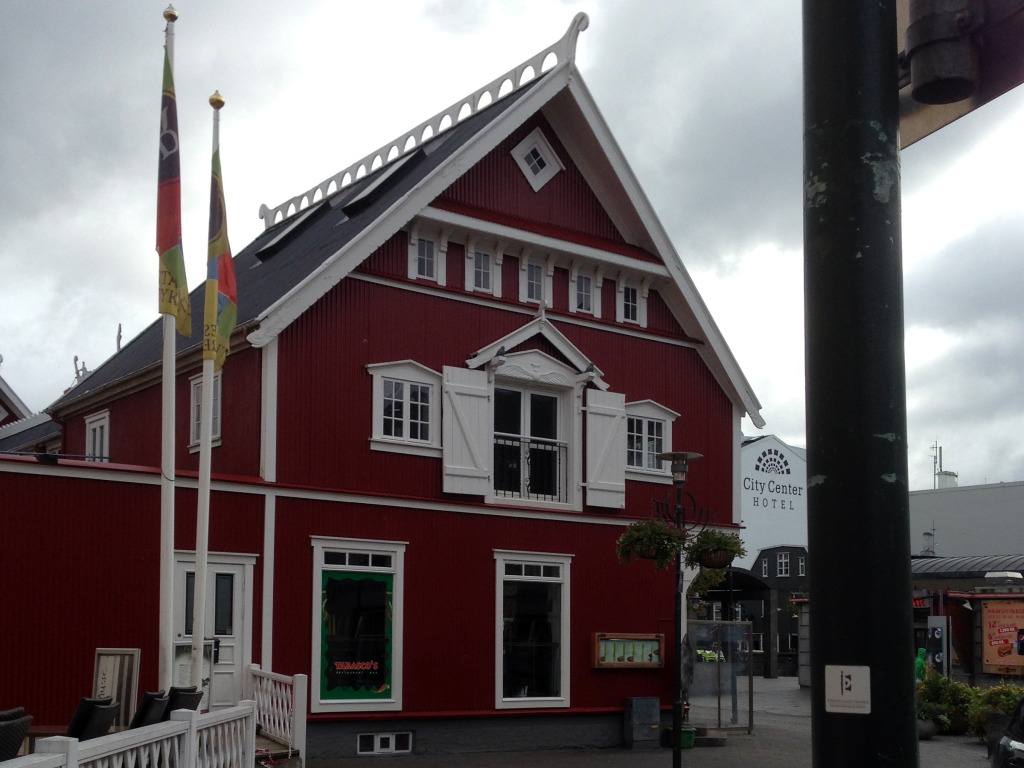 A sidewalk sandwich board caught our attention and we found ourselves in a small gallery featuring the work of many local artists. A collective, Kirsuberjatréð Artists Studio is staffed by the artists themselves, so we milled about as Margrét Guðnadóttir crafted wicker music boxes behind the counter. She left us to browse until we asked for help with selecting a music box that played a traditional Icelandic song.
She asked us about our trip so far and then captivated us with stories of her life in Iceland. Discovering that we were adventurous eaters, she talked about eating puffin from the nearby island Heimaey. Translated as "Home Island," it's population swells during the summer when nearly 8 million puffins come to roost. It's also a popular tourist destination, as it contains "Iceland's Pompeii" – a town essentially frozen in 1973, when buried by a sudden volcanic eruption.
Though we could easily have stayed there all afternoon talking, she gave us a tip that we had to follow up on immediately. At her suggestion, we set off around the corner to a place called Saegreifinn (the Sea Baron). One of the few outstanding items on my to-do list for this trip was to sample Hakarl. Everything I had read about it pointed to it being absolutely disgusting. Sand shark, toxic to eat raw, was buried in the sand until it fermented, and was then hung to dry. Anthony Bourdain has described it as the single most disgusting thing he has ever put in his mouth. Challenge accepted!
The Sea Baron was an authentic "ship to mouth" fish house. You select from cuts of fish on display by the front register. Your fish is then cooked to order. While we stood in line, the namesake Sea Baron came over to hand us postcards featuring himself wielding a dried fish like a scabbard.
I was grossly unprepared for what followed.
When I ordered the Hakarl (and a beer to chase it), the cashier pulled a small container from the fridge. She stabbed one dice-sized cube with a fork and handed it to me. Being a little congested from a recent cold, I failed to notice the smell. I carried my fork upright like a torch and walked to a table in the corner. Every head in the place turned to seek out the source of the offensive odor as I passed.
Though the microphone was broken as this video was recorded, you can clearly make out fun phrases by lipreading: "this was a mistake," "this is awful," "it's delicious, you should try some," and "I just want this out of my mouth." I stopped chewing only to burst into laughter, and then stopped laughing only to gag from the taste. After finally swallowing the last of it, I discovered still more hiding behind one of my molars.
After a quick nap to recharge, we took one of my favorite pictures of us together, looking haggard and tired, but happy, in front of Hallgrimska – the architectural marvel Lutheran Church at the top of the hill downtown.
We walked down the hill toward the center of town, stopping at Lundinn – the Puffin to buy souvenirs for friends back home. We grabbed a few small troll figurines and a box of lava rocks which were packaged as cubes to freeze and use in drinks instead of ice. The friend we ultimately gave them to described them as "exactly what you'd expect." He elaborated, "I just kept getting hit in the face with a rock every time I took a sip."
Our other souvenir stop was to buy a traditional Icelandic lopapeysa wool sweater from the Nordic Store.
For dinner, again without reservations, we appeared at Fiskmarkadurinn (the Fish Market). Though there were no tables available, we were seated at the sushi bar with a front seat view into the kitchen. Watching every dish prepared with a coordinated level of precision and artistry was quite an experience. We ordered a 9 course tasting menu, and added puffin and whale appetizers so that we would be able to say we had tried everything Icelandic we could find.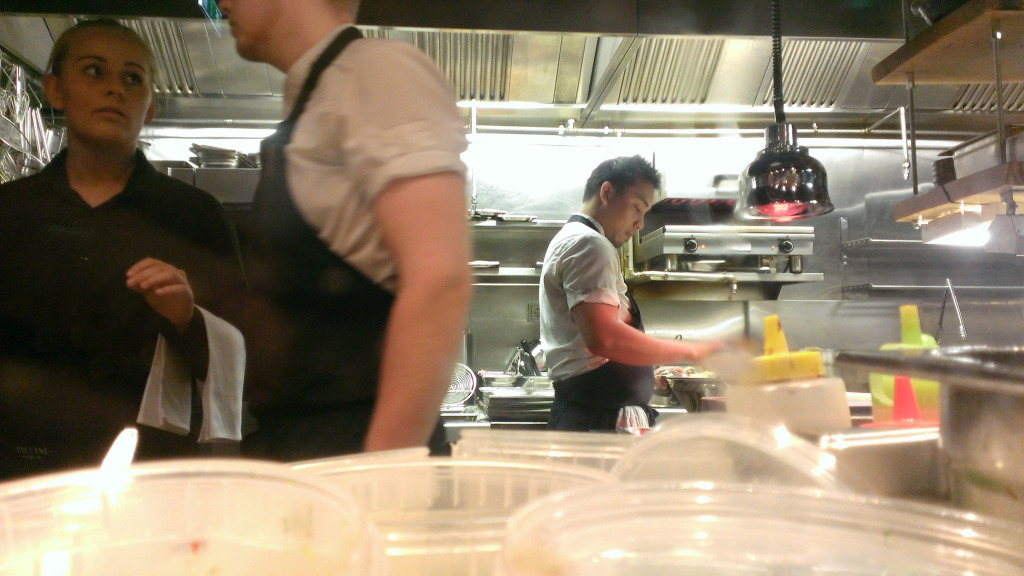 The night promised to be the one night of our trip that the northern lights were viewable from downtown Reykjavik. Unfortunately, overcast skies ruined that opportunity. Exhausted, we settled into the apartment and prepared for our early flight home.
Stay tuned for the recap including tips, insights and recommendations to help you make the most of your trip!
Gettting to Iceland
Day 1: Isolation and Scenery
Day 2: Waterfalls and a Volcano
Day 3: Downtown Reykjavik